How it is easy now to upload video files to internet sites! While the problem of video protection from unauthorized usage is bound to arise as it has been an epidemic. You are by no means certain of your video security or in other words the copyright protection, as your video's very likely to be usurped by any other person anytime, anywhere, everyday while you have no way of knowing it.
There is no way to completely prevent online video from being stolen. If it can be viewed on a computer it can be stolen. The best you can do is to minimize the risk to prevent access unauthorized personnel. There are two practical ways of ensuring the video against taking it without asking permission even for illegal purposes.
1. Video Encryption
Video encryption is simply the process of hiding your video from prying eyes. Personal encryption is when you create a video and want to share it with your clients, friends, family, etc., or just store it for archival purposes – but don't want any unauthorized person to see it.
There are many approaches and techniques for video encryption like selective encryption in different steps of compression video. What is the best step for encryption to get an effective method for video encryption? Many papers are available on net to find out the survey of video encryption methods.
However, if you're making a video intended to be seen by millions, but just have no desire for being shared, the choice of video encryption may scarcely fit you. In addition, video compression – encryption is too elaborate to know the ropes for the average person. Based on this, video encryption is not recommended as your top priority for video privacy protection acts.
2. Brand Your Video with a Watermark
In practice, you have another way to ensure that your video share material remains your material — add watermark to video online.
The purpose of the watermark notice is to throw light on the fact that you own the video and that you expect to be asked for permission before anyone intends to use, sell, or reproduce it, to protect video content.
Nowadays, in watermark software circles, good and bad are mixed together. I heartily wish to make the best add watermark to video software recommendation for your convenience, which is Video Watermark Pro.
User Reviews for Video Watermark Pro
Your product is great and very helpful. I can use it to do many jobs and for most of them, I can design by myself. You just created an excellent tool! - James
I love your watermark software because it's powerful and very easy to control. I upload 100 video files every week. The video copyright is very important. This video watermark program helps a lot.- Hillary
A Simple Step by Step Process on How to Add Watermark to Video
Step One: Add Files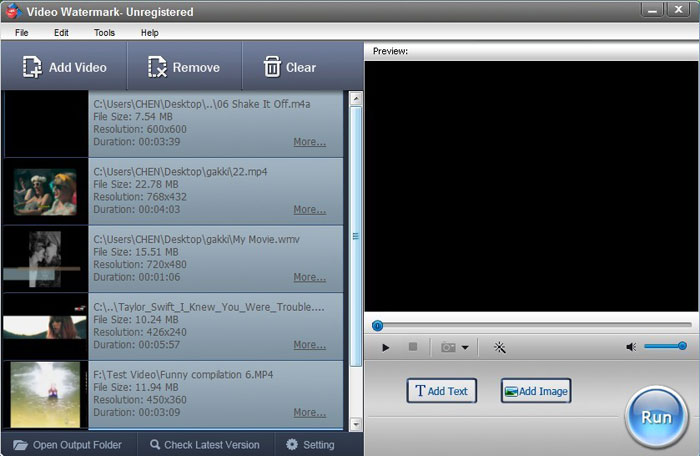 Click "Add Video" button below the main menu bar to upload the video files or directly drag one single file or a video folder to the corresponding region. In batch mode, you can add watermark to hundreds of videos at once. After having imported the video, click "Add Text" or "Add Image" to access the editing interface.
Step Two: Add Watermark to Video Online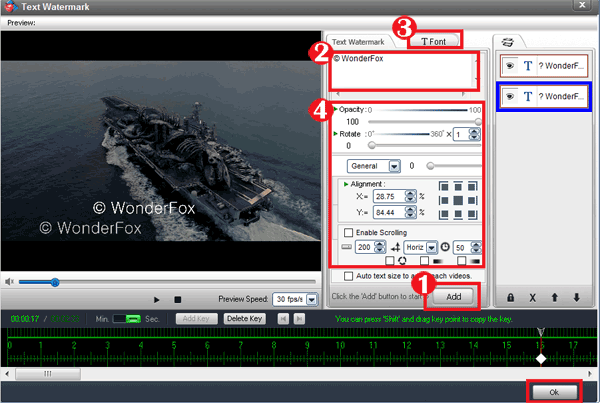 On a video, you can add copyright symbol (©, ®, ™), identity signature, ownership text, company logo and even geometry graphics. It will require 5 micro steps to put it through.
1. Click "Add" to prepare for character input.
2. Type the text.
3. Set the font of a text.
4. If necessary, use other parameters available to fine - tune the text watermark, like opacity, rotate, scroll, alignment, etc.
5. Click "Ok" button to save the settings.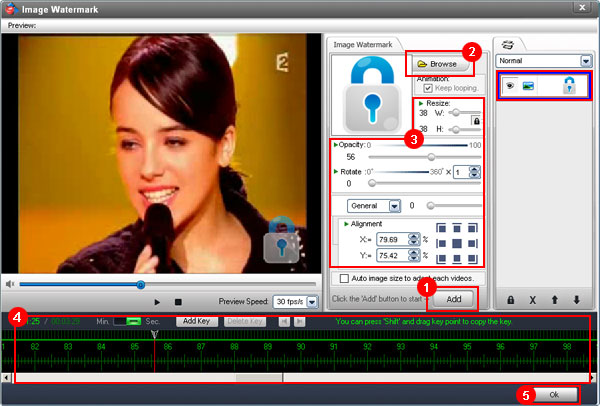 Go to "Image Watermark" window to add image watermark to your video. There are a variety of types of sample image watermark like Business, Icon, Digital, and Animated GIF. You can choose any one of them or apply your own image watermark by clicking "Load Watermark". Similarly, all together there are 5 small steps.
Step 3 Run
This final part of the watermarking is to begin the process. Before it starts, you can adjust the "Output Settings", "Video Settings" and "Audio Settings", or leave the default value.
In a nutshell, applying watermark remains the most powerful method of preserving your video files. Even if someone uses such video content, it will only advertise the video and author.
Click Here or button below to get the video watermark software free download. If you have any further questions, please contact us.