How to choose watermark video program?
If you also want to add watermark to video, so choose proper video watermark program is very important, some important points here:
1, the watermark video software must protect your video's copyright
Should work well on protecting videos, enable edit watermark of text, image, sign and put them to your videos, will prevent from removing video watermark and stealing the videos, satisfy your basic requirements.
2, the watermark video software must support different video formats
Now, more and more different video formats into our life, a good program should be a video conversion software, and must support most of popular video formats, this is very important.
3, it must have simple video editing function
For flexibly add watermark to videos as your will,the software must be have time line and key frame editing function. With these function, you can control appearance time and disappearance time of your watermark.
4, fast speed and good quality
We hope finish the watermarking videos process within less time, and keep good video quality, no one like waiting long time for anything.
5, easy to use
We are not professional video editors, we also don't like for learn a software long time, we need an easy to use watermark videos program.
6, cheap price
Get a good program with less money is good thing.
Video Watermark software is best for you, it allows you to embed text, image, logo, sign (include animated) to your video in batch mode. Video Watermark have simple operation and friendly interface, so the process of Watermarking becomes very easy, you can finish it with few clicks, it is an excellent solution to protect and annotate your video.
How to Watermark Videos with Video Watermark Software?
Click https://www.video-watermark.com/products/video-watermark.exe to download Video Watermark and install to your PC.

After installed, please add watermark to video by below steps:
Step 1: Click '+' button to load video from your disc.
Step 2: Click 'Add Text' button to into text watermark interface.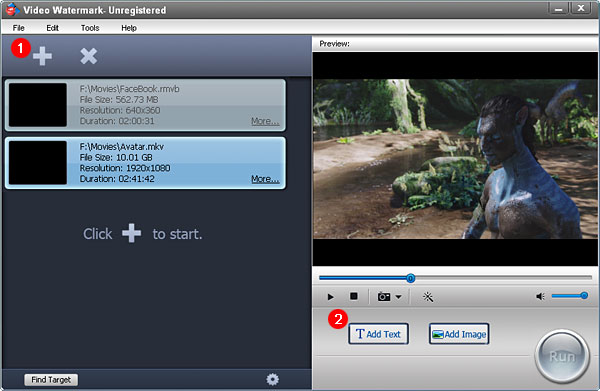 Step 3: Click the 'Add button' to create a text layer and starting text watermark.
Step 4: Type some text or symbols like © that you want.
Step 5: You can click 'Font' button to into Font Setting interface.
Step 6: You can adjust opacity and rotate your text.
Step 7: Drag your text to appropriate location.
Step 8: Click 'Ok' button to return main interface.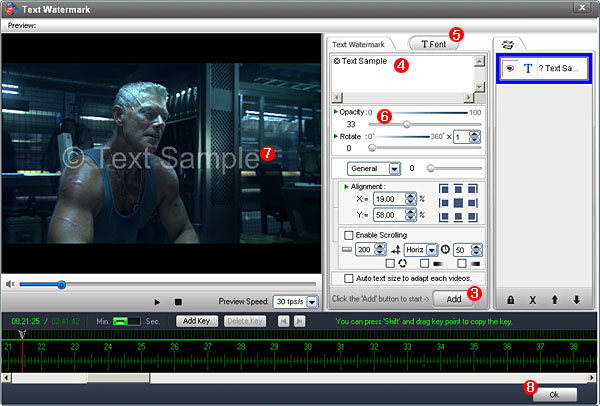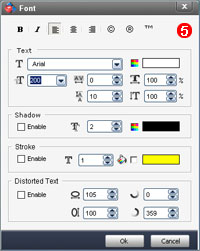 Tips: you can make some effects of text by Font settings.

Step 9: Click 'Run' button to into output interface.

Step 10: Select an output folder or keep original folder.
Step 11: Select an output video format, we have most poplar video formats includes AVI, MPEG, MP4, WMV, MKV, MOV, RM, 3GP, FLV, SWF, VCD, DVD.
Step 12: Video settings - adjust video quality, video resolution, framerate, video encoder, etc.
Step 13: Audio settings - In most, you do not need make any changes.
Step 14: Click 'Run' button to starting watermarking videos.
Tip: you can click 'Background' to minimize the window to tray icon.