Here adding picture to video not make seriate pictures to a video, it's put a picture to video as a logo. The picture can be your individual image or group logo, usually this picture is unique and just you or your group can use the picture, it has strong representation. Such as "Columbia Pictures Corp" will put their logo on starting and fill the entire screen of movies. Adding picture to video also just a small icon on corner of the screen, in most the icon is translucent. All watchers will saw your icon, such as YouTube video.

Here has another way for adding picture to video the picture can be an animated GIF image, the effect batter that ordinary picture.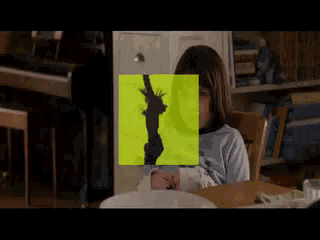 The adding picture to video widely used in individual videos, family videos, films, video sharing sites, the company's advertising videos, etc. So if you interested to add picture to video please try. It's a sample process.
If you are video user, please ask for yourself why not add picture to your video. Is it too hard or you never thinking about this question, or you had thought long time just do not know how to add picture to video. On internet, if you upload your original video to any websites, you never know what will happen, maybe someone will taking your video and reedit even put his own watermark on your video, so people never you are the real author of the video. Add picture to video will bring many benefits for you, such as put your website on picture and then add the picture to video, some visitors will visit your website after they saw your video.
So I suggest every internet user start adding picture to video to protect your videos and get free promote.
You need Windows computer and video watermark software - Video Watermark Pro
It allows you to embed text, image, logo, sign (include animated) to your video in batch mode. Video Watermark has simple operation, friendly interface and high speed process... Please click below button to download Video Watermark Pro, after downloaded, double click the installation icon to install the watermark software to your Windows PC.

Step 1: Launch you will see the main interface, load your video(s) and click "Add Image" button to next.
Tips: Tip: "Run" button not available at right now because has not making any changes.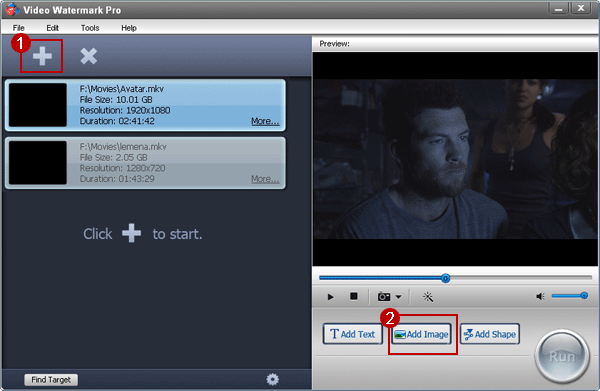 Step 2: In this step, the first click "Add" button to create a new watermark layer, because all editing base on the watermark layer as Photoshop, the second load your picture or select watermark from list, the third use your mouse drag picture (watermark) that you want, the fourth apply your settings and back to main interface.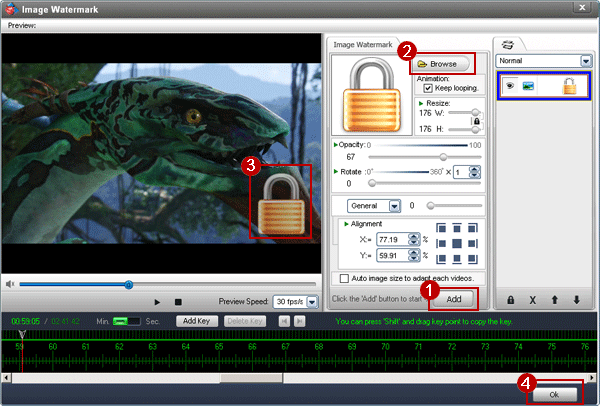 Step 3: In main interface again, you can preview the effect of added picture to video. Click "Run" button to step 4.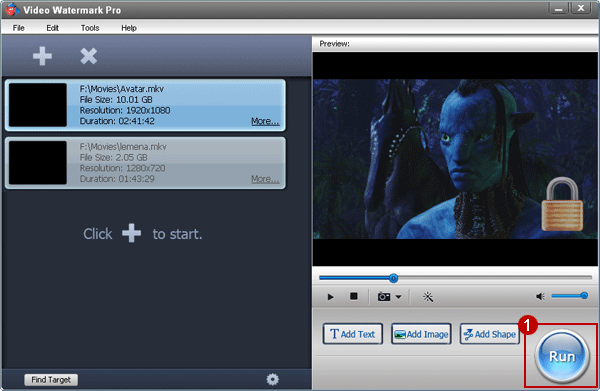 Step 4: Select output folder and select output video format before starting output process.
Tips: after done, software will open output folder and select output file automatically. You can also click "Find Target" in main interface.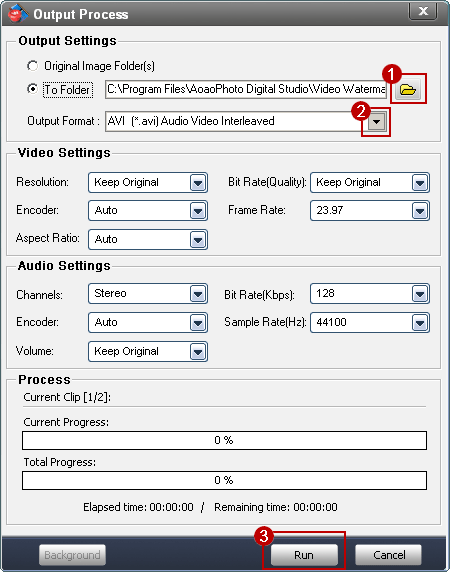 About Video Watermark Pro
It is shareware price $69.95 allow you free trial, the unregistered edition will put some words on output videos. Now purchase will get 50% off price $34.95.
License key will send to you immediately via email after you bought. Registered user will get free upgrade lifetime and free technology support lifetime. Any lose license key or registration problem will getting email support within 24 hours include all of holidays.