Nowadays with the popularity of social networks, more and more people would like to share their homemade videos or original video works on the Internet. Those videos shared on the websites may be copied and misused by others. So it is important to brand and protect videos made you own. But at first we should know that there is no good way to completely prevent online video from being stolen. Videos can be viewed on computer have the possibility to be stolen. Generally speaking, the best we can do now is to make video downloading and copying harder for thieves.
How to make it harder for thieves? There are various ways to choose. One simple and easy method to show protection on video is giving a Watermark of copyright symbol and copyright information on your videos. Even though it seems to be simple, it is considered as the strongest indication about the protection. And watermarking videos is fairly effective if you don't mind the text across the top of your videos. The following part will show the steps to watermark videos with a professional video watermark program.

How to Watermark Videos You Want to Share
We will use Video Watermark Pro to do this task. With Video Watermark Pro, you will feel effortlessly to embed text, image, logo, sign (including animated one) to your videos in batch. Besides its easy to follow interface and superfast processing speed make user can operate it very quickly and conveniently. Just with a few of clicks, you can watermark a batch of videos. Video Watermark Pro is the best solution to protect online videos.
Now follow the steps below, you will learn how to watermark video soon.
Step 1 Launch Program
Download and run Video Watermark Pro, you will come to the main interface.
Click "Add Video" to import a number of source videos you would like to watermark.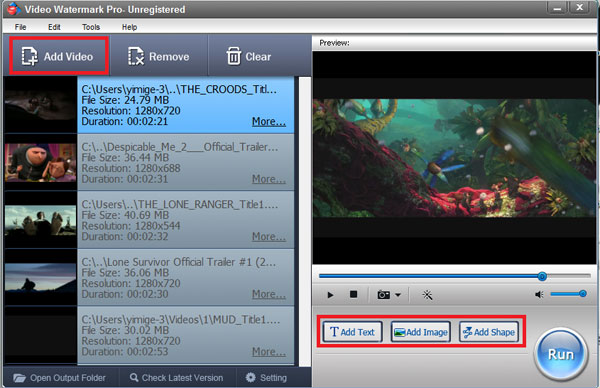 Step 2 Add Text Watermark
Click "Add Text"/"Add Image"/"Add Shape" to add text, image and shape watermark to videos as you wish. Here we take text watermark as an example. Click "Add Text" to go to the following interface.
At first, click "Add" button to create a text layer then you can edit your text watermark on it.
Type some words/symbols you want in the textbox and then jump to Font Setting Interface to edit more about font by clicking "Font" button.
Adjust other settings if need such as Opacity, Rotate. Specify "General"/"Title".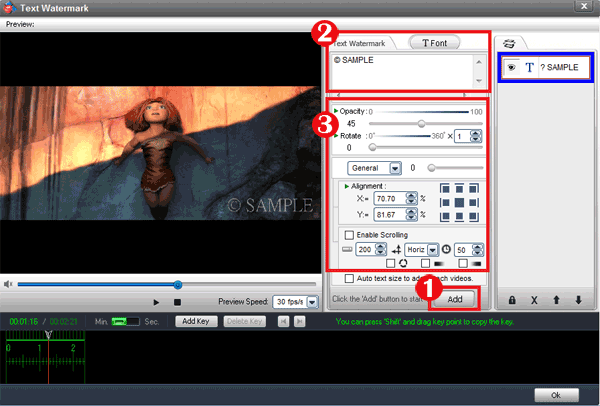 Step 3 Start Watermarking Video
Next, click "OK" to return to the main interface and then click "Run" button, the output interface will pop up.
Specify output folder and output format. There are a wide range of video formats provided for you, including AVI, MPEG, MP4, WMV, MKV, MOV, RM, 3GP, FLV, SWF, VCD, and DVD.
Modify video setting and audio setting as you want or just keep original.
At last click "Run" button to start watermarking videos in batch.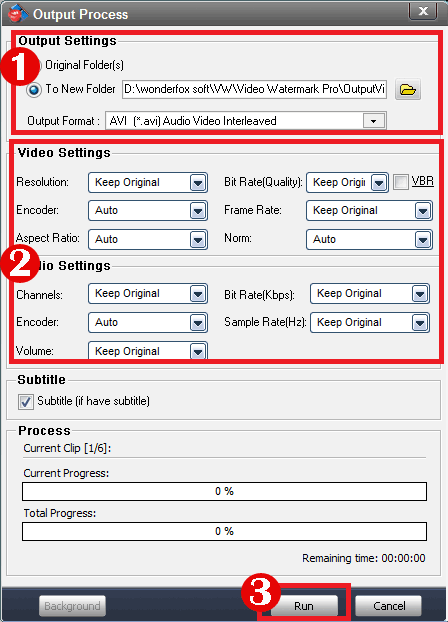 More about Video Watermark Pro
Video Watermark Pro allows you to embed text, image, logo, signature and animated image to your videos in batch mode. There is no any functional limitation on free trial you download. But the unregistered version of Video Watermark Software will put words "Unregistered Version" on output files. If you want to get rid of these words, please purchase license key first (purchase now you can get 50% discount). License code will send automatically within minutes after you purchased. Registered user will get free upgrade, free support and 30 day money back guarantee. Have a free trial below: