How to Batch Watermark Video
With a large collection of video clips, most podcasters and video enthusiasts could be in trouble of how to brand their original videos in batch instead of doing this task one by one before they upload them on sharing websites. With Video Watermark Software, you can easily find a way out. You will never feel difficult to batch watermark video clips.
Watermarking videos you made your own is the quickest and efficient way to protect your videos. It is an extremely easy job to add any text, image and logo watermark to your video clips by applying this professional program. And batch watermarking function of Video Watermark Software will help you accomplish more work in less time. You just need to follow the tutorial below, you can figure out how to batch watermark videos very quickly.

Step 1 Load Your Video Clips
Free download Video Watermark Pro and then launch it. On the main interface, you need to click "Add Video">> "Ctrl + Click" to select a number of video clips.

Step 2 Add Text, Image, Logo Watermark
After video clips have been imported, you can "Add Text", "Add Image" and "Add Shape" at your will. Here we will guide to put text watermark on video clips to protect them.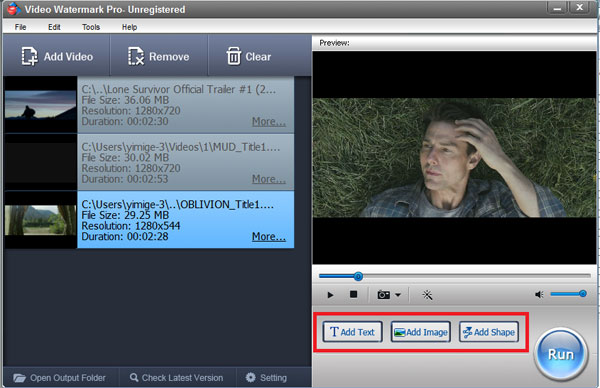 Step 3 Add Text Watermark
Click "Add Text", you will see the following interface. Hit "Add" button first to create a text layer where you can edit your text watermark. On this text layer, you can type any word/symbol you want in the textbox. Edit more about font, you need jump to Font Setting Interface by clicking "Font" button. You can also modify other settings (Opacity, Alignment, etc) by changing the value of them.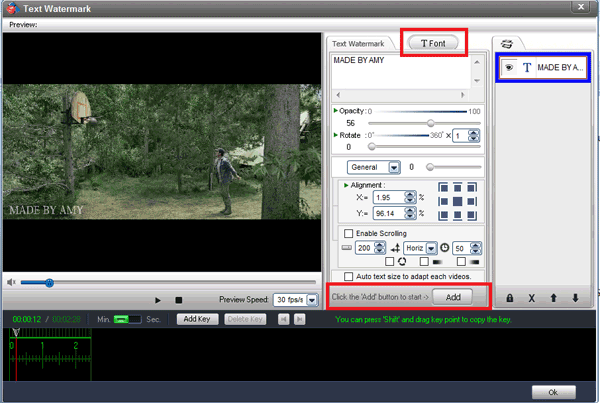 Step 4 Apply Watermark to Videos in Batch
Click "OK" to return to main interface after all you want is set up. This text layer will be applied to all video clips you imported to program. Then, hit "Run" button to go to output interface so that you can specify output format and output folder.
At last, click "Run" button to start watermarking video in batch.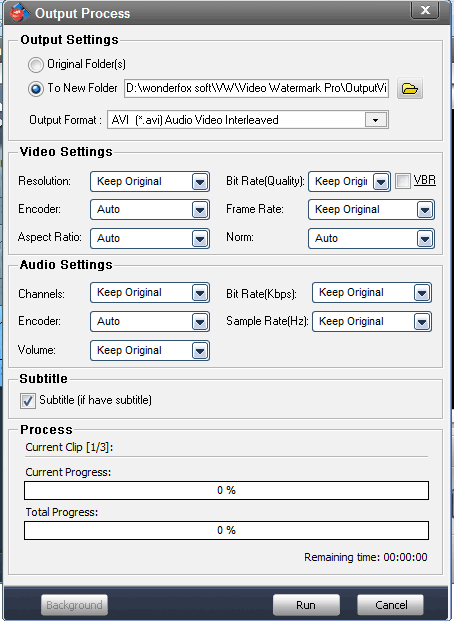 Video Watermark Software is the program focusing on protecting videos copyright. It enables user to insert text, image like your company's logo and even shape watermark to videos. It is an excellent way to stamp a personalized identification mark on the visual material. What's more, it is also a powerful video converter.