Oct. 31, 2013 - AoaoPhoto Digital Studio announced availability of the upgraded version of Video Watermark Pro Edition and Video Watermark Standard Edition – Version 5.0. This new version is a reinvention of AoaoPhoto Digital Studio's flagship product. Our developers made a considerable change on these two editions last two weeks according to users' feedbacks. With Video Watermark v 5.0, user can feel easier and more convenient to apply any watermark they want to videos.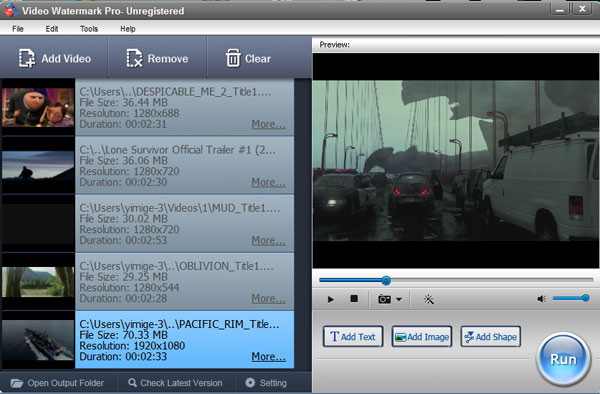 Video Watermark Software (including Standard Edition and Pro Edition) is the professional program which provides people the easiest solution to protect their original videos shared online from unauthorized copying and sharing. AoaoPhoto Digital Studio always focuses on protecting video copyright by adding identity signature, ownership text, company logo and even geometry graphics on video files.
This video watermarking software well supports all popular video formats widely used in daily life and offers 100+ free image watermark materials. It's very easy to use and is absolutely an excellent solution to stamp personalized watermark on any video files. What's more, this video watermarking software is also a video converter which enables to capture snapshot from video.
The new version of Video Watermark is the most stable version ever since its release. Many minor bugs have been fixed and its performance has been remarkably improved to better user experience. The following part will show you its change information in details:
1. Fix a bug: convert silent videos to RM format.
2. Newly add "Drag" feature that you can drag your videos into the program effortlessly.
3. Fix a bug: processing display in a wrong way.
4. Fix a bug: when convert video to VCD [PAL] and DVD [PAL]; an error message keeps coming out.
5. Fix a bug: when convert video to DVD [NTSC] and VCD [NTSC]; the Frame Rate and Resolution of the output video are wrong.
6. Fix a bug: when convert some videos to MPG and select a resolution of 1280x720, the conversion process can't run.
7. Fix a bug: when convert video to DVD [PAL] or VCD [PAL], the output video is disproportionate.