The Easiest Way to Put Logo on Video
If you have a large collection of homemade videos, you would like to upload them to Facebook, YouTube and other sharing-websites to let your friends and others see the funny things happened around you. But before uploading videos to sharing-sites, most people will put transparent logo or homepage URL on their videos to brand their videos as well as prevent these videos from misusing by others.
There are a lot of programs can help you to put logo on your videos but most of them will take you plenty of time to figure out how to get the function. Accordingly, it would be a time-consuming task to put logo on videos you need. So how to find a handy tool to put logo on videos in an easy way is the first problem we need to solve. Here we recommend you Video Watermark Pro – the most efficient program to watermark videos. With its intuitive interface, you will learn how to put logo on video very quickly without changing files' format. Just three simple steps are needed to complete the whole process. What's more, you can choose to display the logo at any point in video timeline.
Step 1 Add Video to Program
①Download and launch Video Watermark Pro, and then click "Add Video" button to load your videos to this program.

②After that, click "Add Image" button to jump to image watermark interface.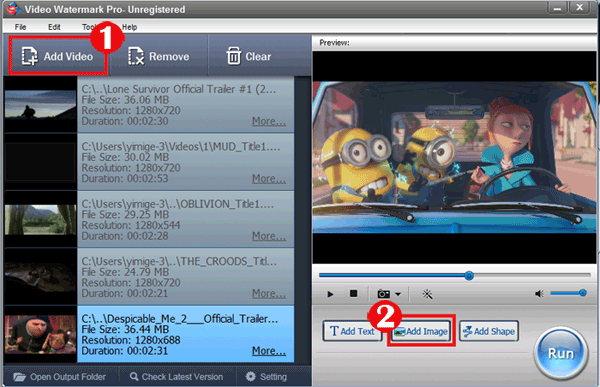 Tips: You can load a lot of videos and use Video Watermark Pro to put logo on these videos in batch mode instead of watermarking them one by one.
Step 2 Put Logo on Videos
①On the image watermark interface, click "Add" button to create an image watermark layer first, and then you can start editing with this layer.
②Click "Browse" button to select the watermarks the program provided (over 150 watermarks, including animated image) or import customized logo from your hard drive.
③You can also adjust opacity, rotation and arrangement (or drag logo to change position).
④Click "Ok" return to main interface.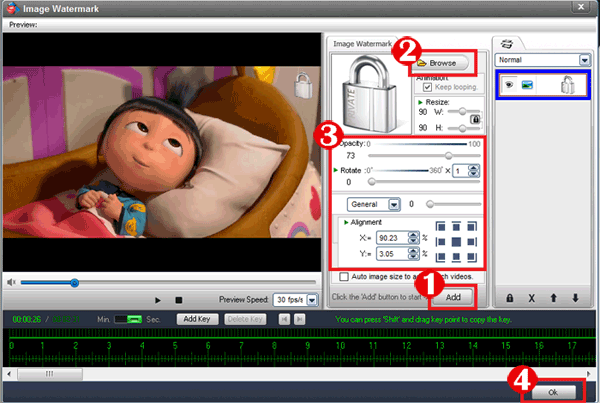 Step 3 Start Watermarking
After all settings are OK, click "Run" button on the right bottom of the main interface to go to output setting interface.
Select an output folder and specify an output video format. Here all popular video formats are provided for you, including AVI, MP4, WMV, MKV, MOV, 3GP, FLV, SWF, and DVD.
Click "Run" button on the output interface to start watermarking process.