How to Make Image to Video?
Is there to embed my individual logo on my videos before uploading to my website and YouTube? Ensure my precious videos will not be unauthorized using or copy. I just would like sharing my video and do not want to lose my video.
The answer is positive!
The increasing need is a good way to weigh out the pros and the cons of make image to video. Firstly, video itself has many applications include film, TV, cell phone, iPod, video sharing web, family video clip, personal growth video log, video teaching, video surveillance, etc. More and more video formats emerge as the times require such as AVI, MPEG, MP4, WMV, MKV, ASF, MOV, 3GP, FLV. But video is fragile object like a kid, it does not know self-protection, it can be reedited from anybody. I think most people do not want to have anyone reedit their video without their authorization, even damage to their videos malicious. So a lot of people started looking for a way to protect their video files, it is making image to video. Make image to video is an effective to protect your video avoid unauthorized using. In addition, make image to video also a good way to promoting your products or your company, like you can saw YouTube's red logo on their video when your watch YouTube video, it's read free advertising.
Actually has no any way able prevent re-edit video, video is common file allow edit or modify. But the modification is irreversible such as cropped a video from 800*600 to 400*300, you can not get back to 800*600. If we make image to video once, so nobody able remove the image from the video, because this image is part of the video.
As is known to all, a large number of software has difficulty in making image to video as well, and video just small part of our life, I believe nobody would like to add image to video with a lot of times, so the process of making image to video must be easy and quick. You need correct software to do it, with Video Watermark Pro you make image to video will becoming an easy task.
Video Watermark Pro allows you to embed text, image, logo, sign (include animated) to your video in batch mode. The video watermark software has simple operation, friendly interface and high speed process... Please click below button to download Video Watermark Pro, after downloaded, double click the installation icon to install the video watermark software to your Windows PC.

Step 1 Load your video(s) and go to next step.
Tips: The circular "Run" button unavailable at this because you have not made any changes.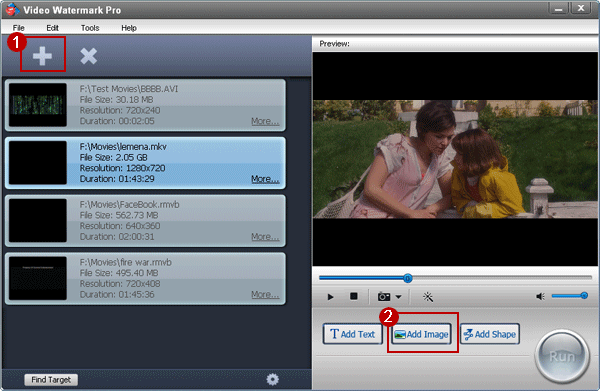 Step 2
1) You must click the "Add" button to create new layer for start.
2) Load your own image or select existing watermark.
3) Drag the watermark icon to a locality that you want.
4) Apply all of changes and back to main interface.
Tips: If you want to your image just appear in some appointed time segments, you can do it via time line setting.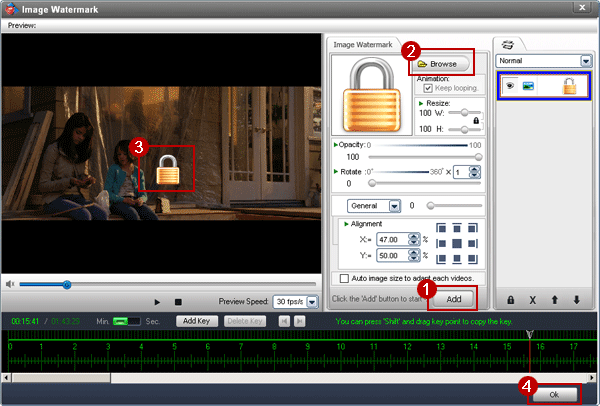 Step 3
You can preview the effect of added image to video in main interface. Click "Run" button to last step.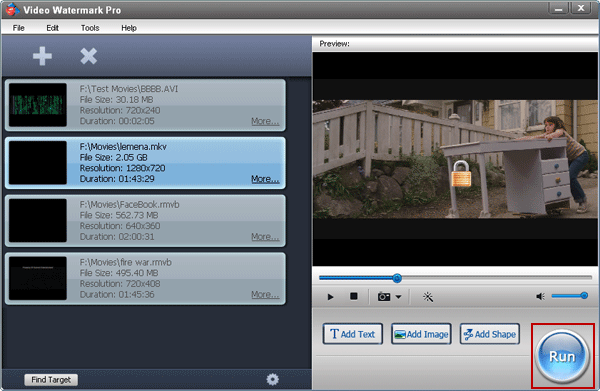 Step 4
Select output folder, select output video format and start output process. After outputting process done, software will open output folder and select object file automatically.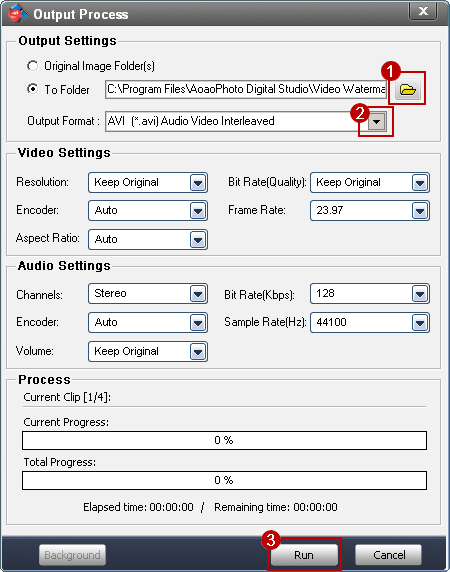 Tips: Video Watermark Pro support most popular video formats like: AVI, MPEG, MP4. WMV, 3GP, MKV, MOV, FLV, SWF, RM, etc.

About Video Watermark Pro
It is shareware price $69.95 allow you free trial, the unregistered edition will put some words on output videos. Now purchase will get 50% off price $34.95.
License key will send to you immediately via email after you bought. Registered user will get free upgrade lifetime and free technology support lifetime. Any lose license key or registration problem will getting email support within 24 hours include all of holidays.