Nowadays more and more people tend to share their home videos on YouTube. They express their happiness and their own ideas through this way. In the meantime there are companies spreading videos about their products to let more people know them. It's also a kind of advertizing. Now one question arises. Do you really think it's safe to put your own videos on the Internet without taking some protective measures? Exactly you must protect the copyright as well as promote your brand by adding your name, signature, or some other text. Video Watermark Pro will be your best choice to insert text to video perfectly.
Step 1 – Launch Video Watermark Pro and Add Video Files
- First you need to run this video watermark and add FLV files.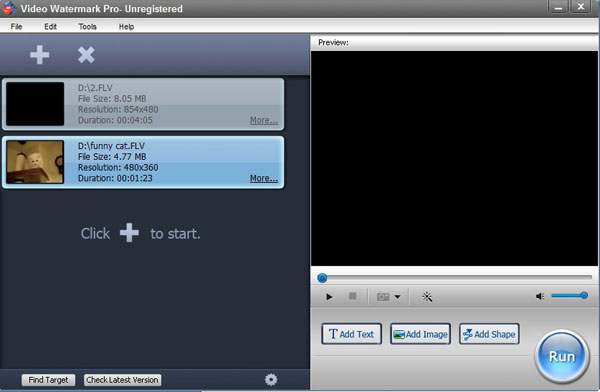 And then you can click "Effect" button to apply some special effects to retouch your YouTube videos, including Brightness, Blur, Mosaic, Sharpen, Old Film, etc.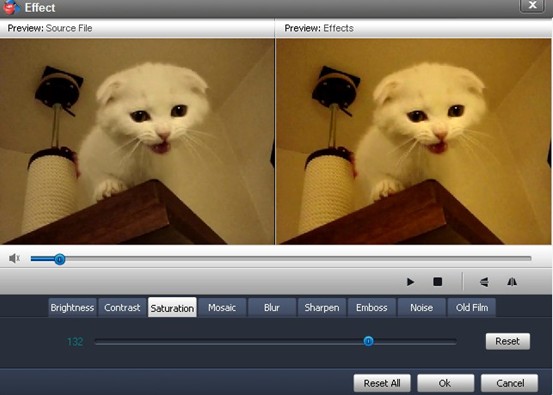 Step 2 – Click "Add Text" Button to Customize Your Own Text Watermark
Another user friendly interface will pop up. Here you are able to control the opacity and rotate tangle of your text watermark.
– Click 'Add' button to create the first watermark layer, now you can see the image watermark on the preview window. You need to type some words at first.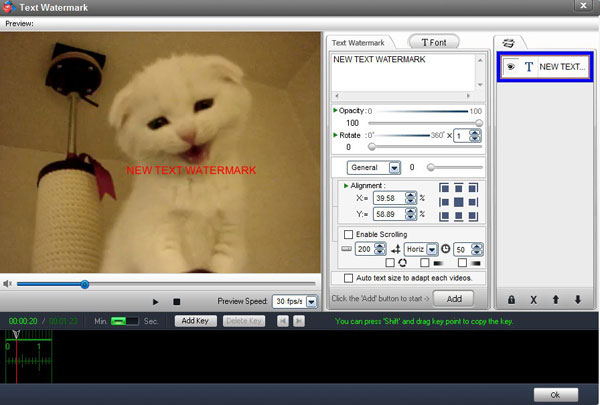 Note: Video Watermark Pro enables you to create more than one text layer to fulfill your demands better. That is to say, you can add several layers and are capable of overlaying different texts on each layer.
- – And then click "Font" button, and select current font, change font size as well as set font color. Besides, you are also able to shadow or distort the text to make your text watermark more remarkable. The picture below directly shows all the functions.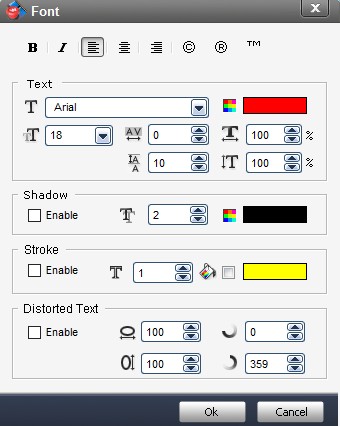 Note: Besides, adding copyright symbols like ©® ™ as watermarks to your YouTube videos is also available.
- If you do not want the text watermark to be overlaid on the YouTube video all the time. Don't worry about such question. Video Watermark Pro lets you to control when the text watermark appears or disappears. For example: the first watermark shows during 1st to 3rd minutes, and the second watermark shows during 3rd to 4th minutes. You can do it with timeline editing function. By clicking "Add Key" button, everything can be accomplished well.

Step 3 – Click "Run "Button and Start Watermarking
Click the big blue "Run" button. You will see another window. You need to select an output folder and then get started by clicking the small "Run" button. The whole watermarking process will be directly showed on this window.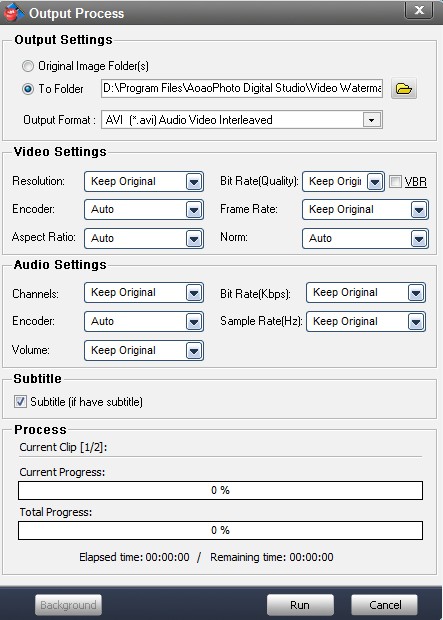 Note: Actually, you have control over video settings and audio settings. It means that you can change video resolution, audio channel, and so on. In addition, you are also supported to keep subtitle or just hide it.