How to select an appropriate video watermark application?
An appropriate video watermark application not only a watermarking program, but also help you to do some additional works, let us read details:
1, Basal Function - The video watermark program must protect your video copyright
Should work well on protecting videos, can add watermark to your video, will prevent from removing watermark and stealing the videos, satisfy your basic requirements.
2, The program must supports different video formats.
A video software should supports most of popular video formats like AVI, MPEG, MP4, WMV, MKV, MOV, etc, this is very important.
3, Must have Powerful functions and professional settings
Add text watermark to video and image watermark to video and design the watermark, these are the basic functions, a great video watermarking software must have some additional and useful functions like time line setting, animated watermarks, text effects and special video effects, etc.
4, Easy-to-use and friendly interface
We are home user, we have no a lot of time to learn how to use the software, beautiful, friendly and easy-to-use interface could bring a nice process. And, it also can save a lot of time for learn.
Video Watermark Software is best choice, it allows you to embed text, image, logo, sign (include animated) to your video in batch mode. Video Watermark have simple operation and friendly interface, so the process of Watermarking becomes very easy, you can finish it with few clicks. it is an excellent way to protect and annotate your video.
Click Here to download Video Watermark Software.

How to add image watermark to video with Video Watermark Software?
Step 1: After installed the video watermark program, launch it, here a friendly interface, click '+' button to adding video to videos list.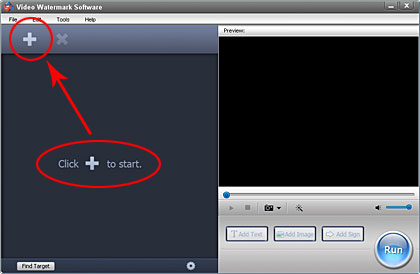 Step 2: Click 'Add Image' button to into image watermark settings, you can add image watermark to video with this interface.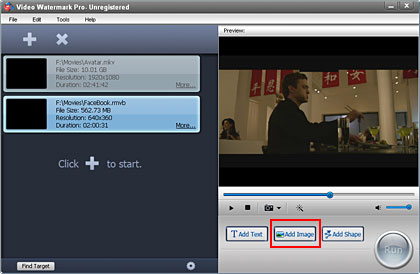 Step 3: Click 'Add' button to create a image watermark layer, you can start editing with the layer.
Step 4: Click 'Browse' button to load watermark from your disc, or select a existing image watermark, we have over 150 watermarks, also include animated watermark.
Step 5: Drag the watermark to appropriate location of video screen.
Step 6: You can adjust opacity, rotation and arrangement.
Step 7: Click 'Ok' return to main interface.
Step 8(optional): you can create many complicated watermarks with time line.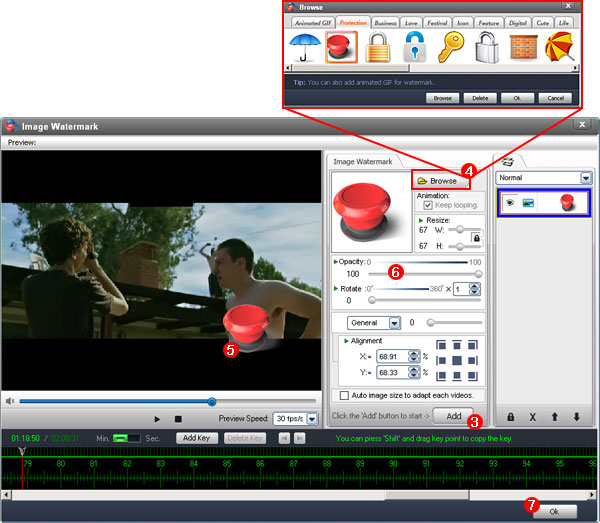 Step 9: In main interface, click 'Run' button to into output setting interface.

Step 10: Select an output folder or keep original folder.
Step 11: Select an output video format, we have most poplar video formats includes AVI, MPEG, MP4, WMV, MKV, MOV, RM, 3GP, FLV, SWF, VCD, DVD.
Step 12: Video settings - adjust video quality, video resolution, framerate, video encoder, etc.
Step 13: Audio settings - In most, you do not need make any changes.
Step 14: Click 'Run' button to starting watermarking videos.
Tip: you can click 'Background' to minimize the window to tray icon.